Trip: April 2017
City: Paris, France
Visited by: Francis Loughran
From haute-cuisine restaurants to all-day cafés, brasseries, food stores, bistros, salon du the, markets and eccentric wine bars, Paris has a huge variety of places to eat, drink, dine and enjoy culinary journeys.
In April this year, the team at Future Food attended a kick-off meeting at the offices of Valodre and Pisre (V&P), a Paris-based architectural company who have been appointed to work on the the Jeddah Economic City project which we are masterplanning the food and hospitality for. The V&P offices are located in the previously occupied third building of world famous Le Bon Marche department store.
Here is a little indication of the sheer variety of places to eat you can find here in Paris, from haute-cuisine temples to all-day cafés, eccentric wine bars, vintage bistros and the new "bistronomiques" serving affordable modern cuisine in a casual setting. It can be quite daunting if it's your first times to Paris, so instead of my usual "where to eat and shop for great food", I decided to provide a guide to what is what when it comes to eating and dining choices.
Foodie Tip: Remember that many top restaurants have much cheaper menus at lunch – an excellent time to sample the chef's style and to get a table at short notice
When it comes to eating and dining, the following will help with the daily decision making of where to eat and what do the following "culinary-styles" mean.
Bistro
The typical bistro is a simple, family-run affair specializing in honest, home-style cooking. The best ones only serve a few different dishes each day, based on whatever is in season at the local market. They tend to be open only on weekdays, and only for a few hours at lunch and dinner. There are many stylish "neo-bistros" on the market now, with contemporary or kitsch retro décor and chic clientele, but the focus is still on traditional cuisine made with the highest quality, seasonal ingredients. The average Parisian bistro is an excellent value, with budget lunch menus and wine by the pichet or glass.
Brasserie
Brasseries are bigger, with non-stop service throughout the day (sometimes 24-hours). They have a larger, flexible menu to suit small or large appetites, from salads and open-faced sandwiches to hearty meals of meat and potatoes. They're usually set in beautiful, late19th-century dining rooms, yet have an informal, sometimes noisy atmosphere, with no dress code. The first brasseries were opened in Paris by Alsatians who fled their German-occupied region after the Franco-Prussian War, bringing with them their specialty beers and pork-based dishes such as choucroute (sauerkraut and sausages). Other typical brasserie fare includes fresh seafood platters, cassoulet and onion soup.
Salons du Thé
Tearooms have become very popular in the past few years. Some serve only tea and pastries throughout the day, others have full lunch menus with tea service limited to the afternoon. Tearoom cooking is typically a choice of light but refined salads, quiches andtartes. Tearooms usually close before dinner.
Restaurant
Whether formal or low-key, a restaurant is where you go to have a lingering, three-course (or more) meal, typically with wine, cheese and coffee at the end. Go to a restaurant when you have the time and the appetite to enjoy the entire experience. Sometimes an establishment is called a restaurant if it doesn't fit into any other category. For dinner, almost all restaurants expect a bit more formality in dress code than during the day, even if in the more casual establishments that means no tank tops, shorts and mucky sneakers. Only the most formal restaurants will actually turn you away for improper clothing; the rest will just seat you in the corner where the other guests won't see you.
Wine Bar
A wine-lover's paradise, it's hard to go wrong in Paris's bistrots à vin (wine bistros). They're typically informal, and offer a limited selection of charcuterie (cold meats and cheeses) and tartines (open sandwiches) to accompany the carefully-chosen wines. You usually can't just drink wine without eating anything (unless the establishment has a bar license).
Cafés
Cafés are a bit more difficult to define. They're generally casual places to have a drink, with light snacks such as croque-monsieurs or salads available throughout the day. They're the kind of places where you can spend the day people-watching or reading a book. Regulars tend to congregate at the bar, where coffee and drinks are cheaper than at tables. Sometimes a bistro or a restaurant will also call itself a café if it has seating for those just stopping in for a drink. The tables set for eating (placemat, silverware, etc.) are not meant for clients just having a drink. The waiter will usually ask, when you arrive, if you're eating or drinking, and direct you to the proper area.
Greetings and etiquette are usually key in French culture and using them will make your shopping and hospitality experience much more enjoyable. A light handshake is usual between business associates, the cheek kiss is for close colleagues and friends. Always say "Bonjour" when you you walk into a café or shop or approach someone for information. Also, remember that many top restaurants have much cheaper menus at lunch – an excellent time to sample the chef's style and to get a table at short notice.
Here are a few of Managing Director, Francis' favourite places from Future Food's recent trip: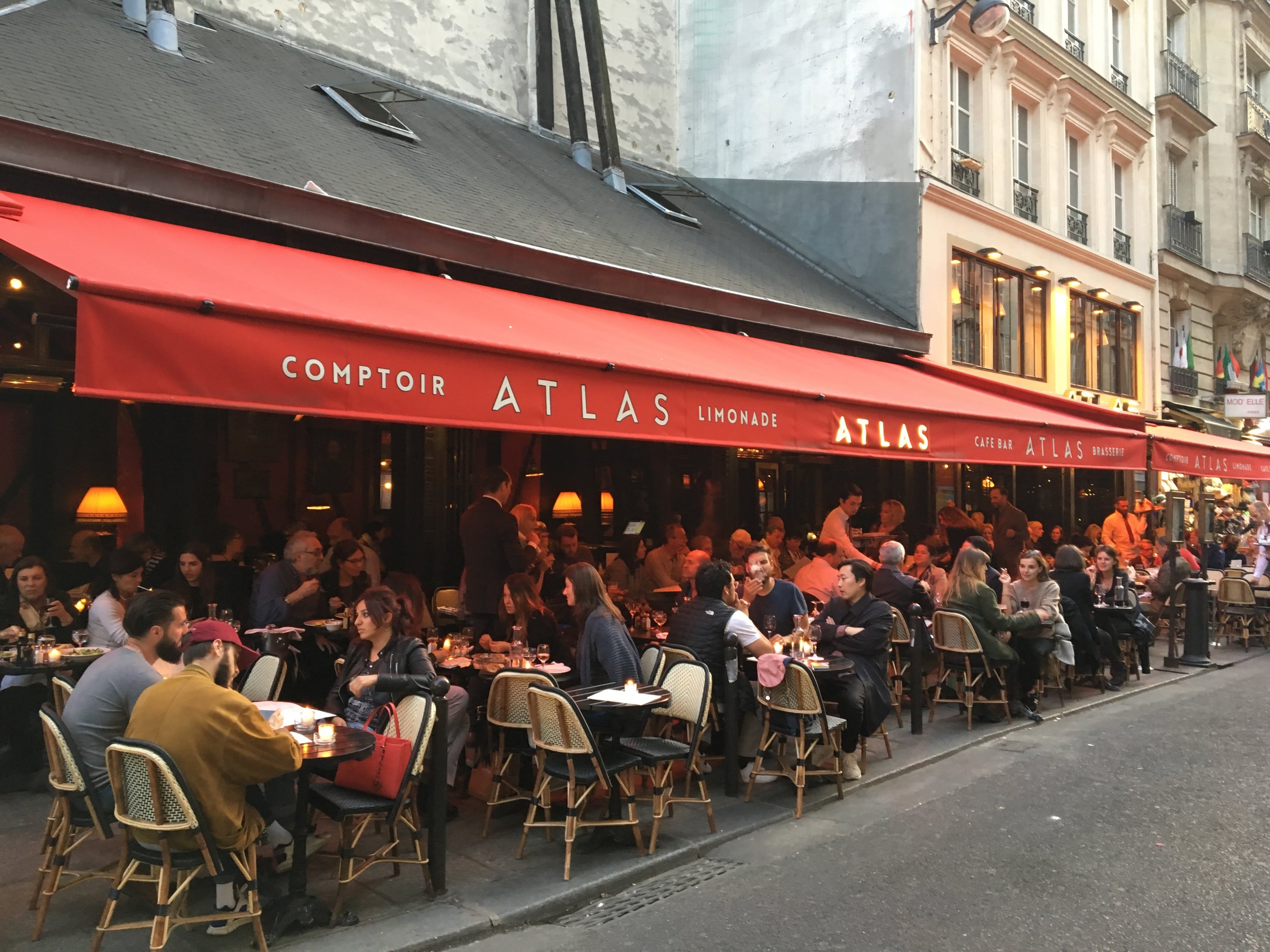 11 rue de Buci, 75006 Paris, France
"Open from early until very late, this Paris institution serves up classical French dishes all through the day. Get that French feeling by sitting out on the sidewalk and people watch the afternoon away with a glass of wine in hand"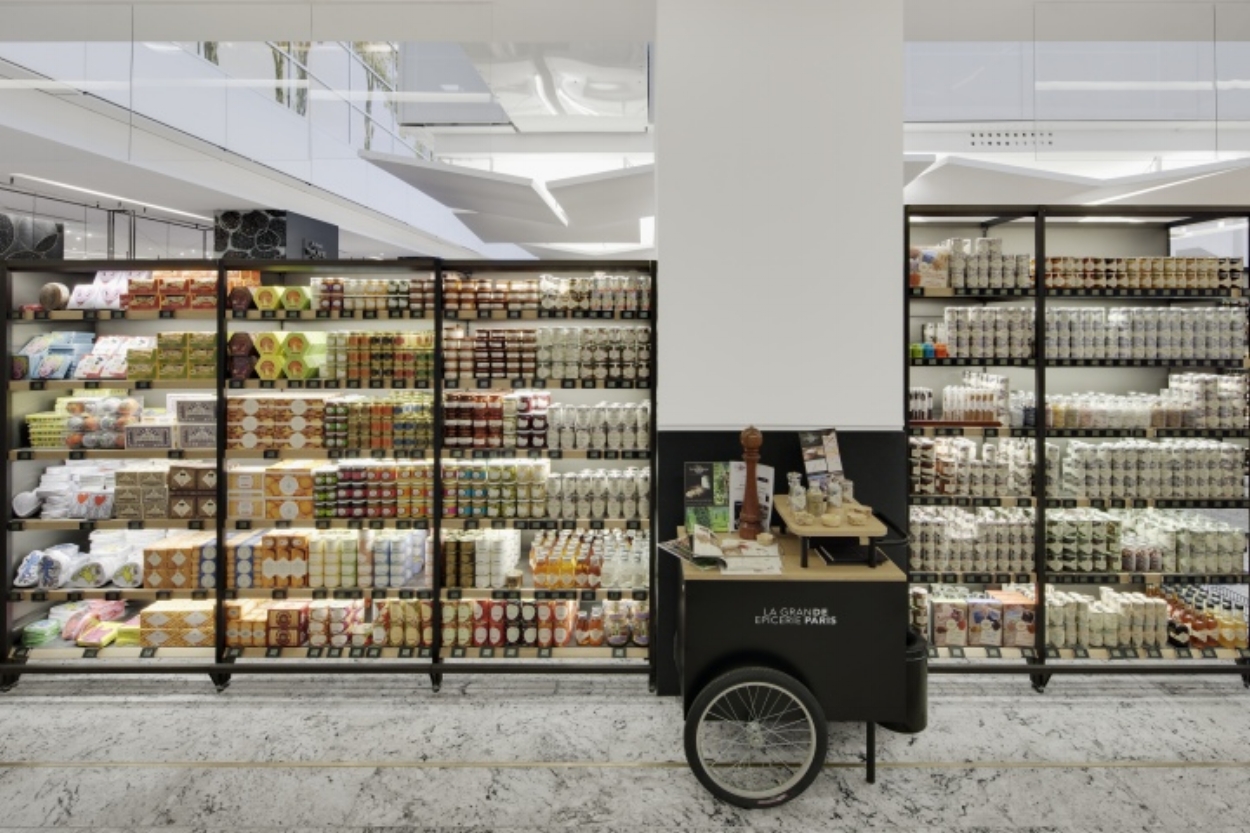 Le Bon Marche, 38 rue de Sèvres, 75007 Paris, France
"This food hall is the king of food halls around the globe. From fresh sushi to hot baguettes, top shelf wines to the world's finest chocolates - you can get just about anything in here. Plan a night in at your accommodation or a park picnic and collect all your goods from here. It will be one of the best meals you have"
4-6-8 Cour du Commerce Saint-André, 75006 Paris, France
"A chocolatier and pâtisserie that has an attached restaurant and cocktail lounge. The cocktails all contain chocolate, there are eclairs filled with the gooiest chocolate sauce, little lemon tarts and the classic French treat -macarons in all different flavours. If you need to show someone back home you love them, you can also buy chocolate treats to take away"
4-6 Rue Lobineau, 75006 Paris, France
"A covered market place where you can access some of the local treats brought into Paris from surrounding towns and farms. You can pop in here for a quick breakfast, a small snack or collect a bounty of delicious ingredients to take to the nearest park"
13 Rue de l'Ancienne Comédie, 75006 Paris, France
"Claimed as the oldest running restaurant in Paris, this is one of the most authentic experiences you can get in this foodie city. You won't get the fanciest of food but you will get a slice of French history you can't find anywhere else"
As the Future Food team continues to travel the world for business, projects and pleasure, we continue to experience and unlock the latest and most diverse culinary offerings from every corner of the globe. The Global City Hopping series is designed to share these experiences with you and open your eyes to what is happening in the food and beverage international scene.